View American Zionist Movement 2017 Year-End Report

Help AZM Move Zionism Forward™ in 5778
Contribute to the AZM 5778 Appeal
In case you missed:

View Source Book, Symposium Video, Photos & Recordings
This symposium was convened in conjunction with a delegation of Israeli Mayors and municipal officials visiting New York City, under the auspices of the WZO. The program and visit coincided with the commemoration at the United Nations of the 70th anniversary of the Partition vote on November 29, 1947 which preceded the establishment of the State of Israel in May 1948. This event was made possible through the support of the World Zionist Organization.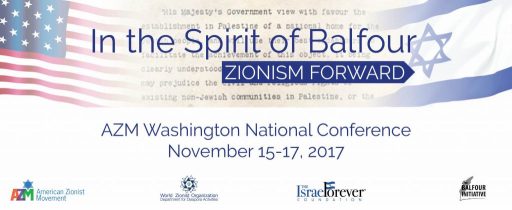 The American Zionist Movement held our Washington National Conference: Zionism Forward in the Spirit of Balfour on November 15-17, 2017 in Washington DC, in partnership with the Department for Diaspora Activities of the World Zionist Organization and the Balfour Initiative of The Israel Forever Foundation.
AZM YEAR-END 2017 REPORT

December 2017 THE AMERICAN ZIONIST MOVEMENT A YEAR-END 2017 REPORT OF ACTIVITIES AND ACHIEVEMENTS March – December 2017 This report is a compilation prepared by the President of AZM, Richard D. Heideman; Chair of the AZM National Board, Francine Stein; AZM Executive Director, Herbert Block; AZM Program Director, Alicia Post; on behalf […]
Apply for the HBR scholarship to Israel
Scholarships Available for Young Americans on Programs in Israel!
The Helyn B. Reich Memorial Scholarship Fund was established in 1995 in memory of Helyn B. Reich, wife of founding AZM President Seymour D. Reich.
Herbert Block Named Director of AZM

AMERICAN ZIONIST MOVEMENT ANNOUNCES HERBERT BLOCK AS EXECUTIVE DIRECTOR TO SUCCEED KAREN RUBINSTEIN, RETIRING AFTER DECADES OF SERVICE New York, March 2, 2017. The American Zionist Movement (AZM) announced today the selection of Herbert Block as its new Executive Director. Mr. Block will join AZM following the organization's Biennial Assembly which will take place on March […]
Richard D. Heideman elected President of AZM

HEIDEMAN INTRODUCES "ZIONISM FORWARD" PROGRAM CALLING FOR A RENEWED SPEAK FOR ZIONISM AND A UNIFIED AMERICAN JEWISH VOICE IN SUPPORT OF ISRAEL New York, March 6, 2017. Richard D. Heideman was elected the new President of the American Zionist Movement (AZM), the American