UPCOMING EVENT – REGISTER NOW: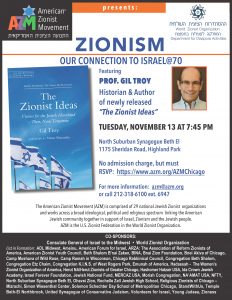 ___
For more information: azm@azm.org or call 212-318-6100 ext. 6947
___
AZM CHICAGO: The umbrella organization of the Zionist membership organizations and the voice of unified Zionism in the greater Chicago area.
Main Page | Contact Us | Upcoming Events | ViZion Chicago | Calendar (https://www.azm.org/azm-chicago-events-calendar) |Officers(https://www.azm.org/chicago-officers)
Subscribe to AZM Chicago list
CHICAGO's 19th ANNUAL CONCERT– NOVEMBER 27, 2011
In Honor of MACHAL
In Recognition of Dr. Milton I Shulman and Dr. A.I. "Izzie" Weinzweig
In 1948, when the newly proclaimed State of Israel was faced with its War of Independence, more than 4,000 men and women from around the world came to Israel to fight alongside Tzahal, the Israel Defense Force. Collectively known as Mitnavdei Chutz La'aretz, "Volunteers from Outside the Land," MACHAL volunteers were recognized by David Ben Gurion as the Diaspora's most important contribution to the survival of the State of Israel at its beginning. Two of those volunteers were Milton Shulman and Avrum Israel "Izzie" Weinzweig.