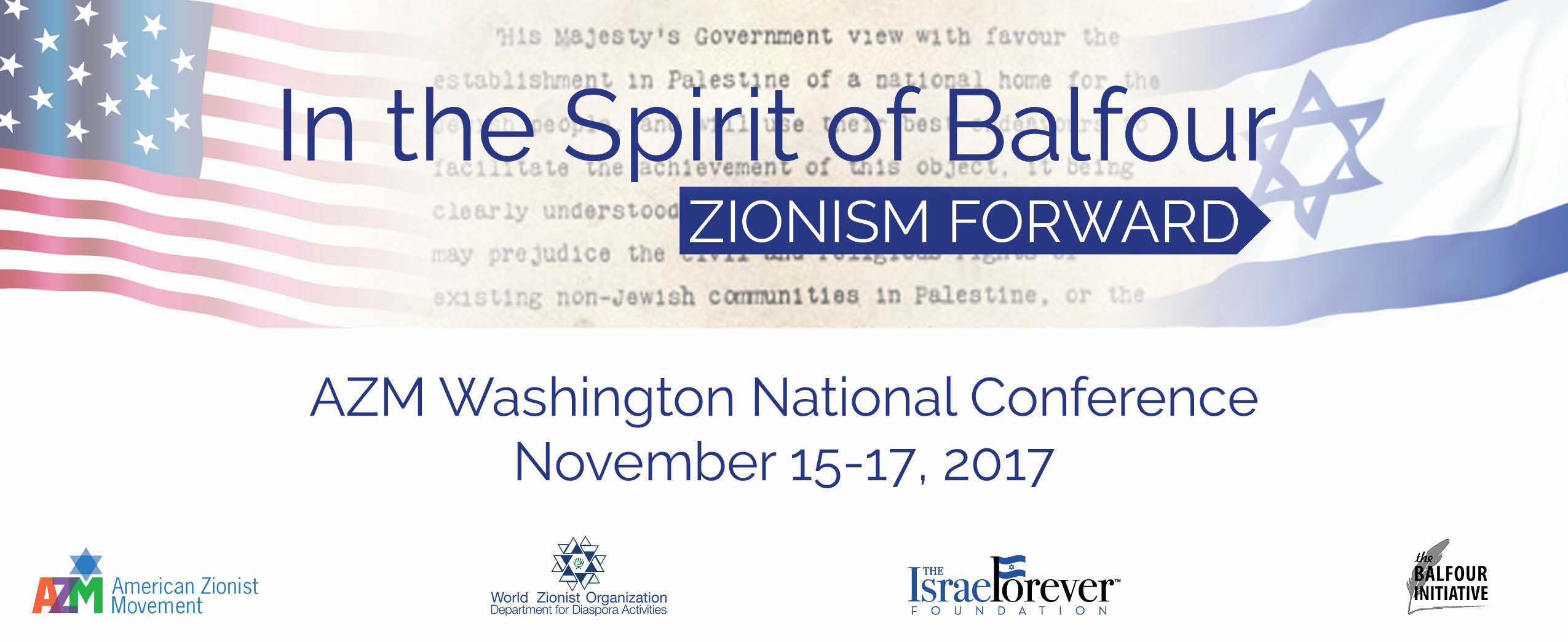 The American Zionist Movement held our Washington National Conference: Zionism Forward in the Spirit of Balfour on November 15-17, 2017 in Washington DC,m in partnership with the Department for Diaspora Activities of the World Zionist Organization (WZO) and the Balfour Initiative of The Israel Forever Foundation (IFF).
The Conference commemorates the 100th anniversary of the Balfour Declaration and the 70th anniversary of the UN Partition Resolution. Our gathering will feature key speakers, panels and exciting events, including The Balfour Gala hosted at The Embassy of Israel, followed by a powerful day of sessions on Capitol Hill, featuring a Congressional Luncheon. The conference will conclude with the WZO Symposium on Diaspora Affairs.
For sponsorship opportunities, please click
HERE
to give online or
HERE
for a printable form
.
---
SPEAKERS
Jacob Baime
Executive Director,
Israel on Campus Coalition
Dr. Mitchell G. Bard
Executive Director,
American-Israeli
Cooperative Enterprise (AICE)
Eyal Ben Zeev
Media Consultant,
World Zionist Organization's Department for Diaspora Activities
Edwin Black
Author
Rabbi Mendel Bluming
Rabbi & Executive Director,
Chabad Shul of Potomac
Herbert Block
Executive Director,
American Zionist Movement
Dr. Daniel Branovan
President,
American Forum for Israel
Shoshana Bryen
Senior Director,
The Jewish Policy Center
Minister Eli Cohen
Israel's Minister of Economy & Industry
Sarrae Crane
Executive Director,
MERCAZ USA
Heidi Krizer Daroff
North America Director,
Israel Forever Foundation
William C. Daroff
Senior Vice President for Public Policy & Director of the Washington Office of The Jewish Federations of North America
Baroness Ruth Deech
UK House of Lords
Ambassador Ron Dermer
Israel's Ambassador
to the United States
[Video Remarks]
Alan Dershowitz
Lawyer & Author
David Dormont
Former Treasurer,
Partners for a Progressive Israel
Avraham Duvdevani
Chair,
World Zionist Organization
Ambassador Stuart Eizenstat
US Ambassador (ret.)
to the European Union
Daniel Flesch
Founder & Executive Director,
ZOA's Fuel for Truth – DC
MK Oded Forer
Member of Knesset
Brooke Goldstein
Founder & Executive Director,
The Lawfare Project
Rabbi Paul Golomb
Vice President,
American Zionist Movement
Ambassador Keith Harper
US Ambassador (ret.) & Permanent Representative to the United Nations Human Rights Council in Geneva
Dr. Elana Yael Heideman
Executive Director,
The Israel Forever Foundation
Richard D. Heideman
President,
American Zionist Movement
Ellen Hershkin
National President, Hadassah,
AZM NLC
Malcolm Hoenlein
Executive Vice Chairman & CEO,
Conference of Presidents of Major American Jewish Organizations
Col. Richard Kemp
Commander British Forces (ret.)
Morton A. Klein
President,
Zionist Organization of America
Brig.-Gen (ret.) Yossi Kuperwasser
Former Director General,
Israel's Ministry of Strategic Affairs
Rabbi Vernon Kurtz
Rabbi, North Suburban Synagogue Beth El, Past President, American Zionist Movement & MERCAZ USA
Frederick M. Lawrence
Secretary & CEO, Phi Beta Kappa and Former President, Brandeis University
Minister Yariv Levin
Israel's Minister of Tourism
Dr. Matthew Levitt
Director, Counterterrorism program at The Washington Institute for Near Policy, and a former Treasury and FBI official
Ann F. Lewis
President,
JAC Education Foundation
Herb London
President,
London Center for Research
Rotem Malach
Central Emissary,
World Zionist Organization's Department for Diaspora Activities
Daniel S. Mariaschin
CEO & Executive Vice President,
B'nai B'rith International
Mark Mellman
President & CEO,
The Mellman Group
Aaron David Miller
Vice President,
Woodrow Wilson Center
MK Avraham Neguise
Member of Knesset
Ashley Perry
Former Advisor,
Israel Minister of Foreign Affairs
Daniel Pipes
President,
The Middle East Forum
Russell Robinson
CEO,
Jewish National Fund
Gregg Roman
Director,
The Middle East Forum
[Video Remarks]
Rabbi Lord Jonathan Sacks
Global Religious Leader,
Philosopher & Author
Ambassador (ret.) David Saperstein
Director Emeritus,
Religious Action Center
of Reform Judaism
Dr. Robert B. Satloff
Executive Director,
The Washington Institute for Near East Policy
Zachary Schaffer
Associate, Community Strategy,
Israel Action Network
Dr. Esther Serok
Representative of the World Zionist Organization Executive in North America
Dr. Dmitry Shiglik
Chairman,
American Forum for Israel
Rabbi Gideon Shloush
President, NY Board of Rabbis &
Former Executive Director, RZA
Dr. Francine Stein
Chair of the National Board, American Zionist Movement and Past National President, AMIT
Mindy Stein
Honorary National President & Chairman of The Board, Emunah of America
Sarah Stern
President,
EMET
Stephen Trachtenberg
President Emeritus,
George Washington University
Susan B. Tuchman, Esq.
Director, Zionist Organization of America Center for Law and Justice
Rabbi Joshua Weinberg
President of ARZA, the Association of Reform Zionists of America
Lesley Weiss
Member & Former Chair,
U.S. Commission for the Preservation of America's Heritage Abroad
Robert Wexler
President
Center for Middle East Peace
Gusti Yehoshua-Braverman
Chair, World Zionist Organization's Department for Diaspora Activities
Ben-Dror Yemini
Journalist & Author of
"INDUSTRY OF LIES"
Rabbi Stuart Weinblatt
Founding (& Senior) Rabbi,
Congregation B'nai Tzedek, President of the Rabbinic Cabinet of the JFNA

For more details contact

azm@azm.org

or call 212.318.6100 x6947
*Kosher Dietary Laws observed throughout the conference