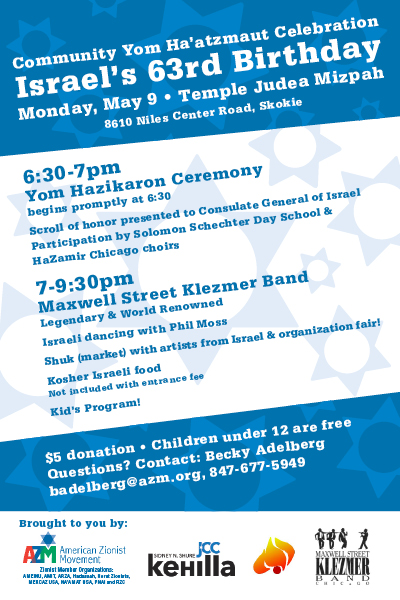 Come and celebration Yom Ha'atzmaut on the actual day of the holiday!
Monday, May 9
Temple Judea Mizpah (8610 Niles Center Road, Skokie, IL)
6:30pm (begins promptly)- Yom Hazikaron ceremony
7:00pm- Yom Ha'atzmaut Celebration
Maxwell Street Klezmer Band (world renowned & legendary)
Israeli Dancing with Phil Moss
Kosher Israeli food!
Shuk (market) with artists from Israel!
Israel organization fair! Kids program!
$5 Donation
*Easily accessible by Skokie swift yellow line (synagogue directly next to train) or close to 94- lots of parking!*
Sponsored by:
AZM Chicago, Sidney N. Shure Kehilla JCC & Temple Judea Mizpah
Questions? Contact Becky at: badelberg@azm.org or 847-677-5949