Learn about Herzl, Learn about Yourself
In June 2010, at the 36th World Zionist Congress, the WZO introduced innovative kit of educational materials for use in formal and informal settings.
Journey with Herzl (for ages 13 – adult)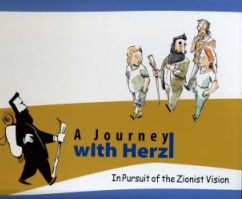 The educational kit entitled A Journey with Herzl is comprised of a facilitator's handbook and instructions for the implementation of four workshops. The guide includes texts excerpted from Herzl's writings, which can be used to challenge participants to imagine the sort of Israel they would like to see come into being, to consider what role they might have in bringing that about, and to examine the personal meaning of Jewish statehood in their own lives. Also included in this kit is a 14-minute video from the Herzl Museum as well as worksheets (easily duplicated) for participants. Materials are appropriate for use with ages 13 to adult.
Journey with Herzl Educational Kit  | Price: $36.00


On Herzl's Mind (educational game)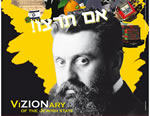 Never content to focus only on the immediate exigencies of the Zionist movement, Herzl was always imagining what the Jewish State he dreamed of would one day look like. "On Herzl's Mind" is an interactive educational kit based on a color poster, which graphically illustrates the profusion of Herzl's ideas. The kit comes with a set of cards with images capturing those ideas, a complementary set of excerpts from his writings, and background material intended for the workshop's facilitator. In the activity itself, half the group is given a card with one of the images emanating from Herzl's extraordinary imagination and the other half a card with a quotation from his utopian novel, Altneuland. Participants set off to match one with the other, learning about Herzl and his vision in the process.
On Herzl's Mind  | Price: $18.00


Both items purchased and bundled together  | Price: $50.00


All prices include shipping within the continental United States only. For shipping to other countries please call or email.
A Travelling Exhibit About Herzl
Herzl: Up Close and Personal:In Pursuit of the Zionist Vision
About the Exhibit| Order the Exhibit | About Herzl

Downloading the files below requires Adobe Acrobat Reader. Download Adobe Acrobat
One-Page Exhibition Guide
The 24 page Visitor's Guide looks at each of the exhibit's major themes, puts the theme in an historical context, examines the major issues addressed in the exhibition and provides some simple exercises to engage the visitor in the issues raised. | Download
24-Page Visitors' Guide | Download
PowerPoint Presentation About the Exhibit | Download
The Herzl Exhibition Guide is a handbook for educators and youth leaders which contains programming materials and resources for five 2-hour sessions. Purchase here.