Together As One: Carmel Fire Relief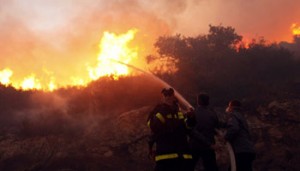 On December 2nd, fires raged across Israel's Carmel mountain region. Already called the worst fire in the history of the State by Prime Minister Benjamin Netanyahu. At this time, at least 41 lives have been lost; tens of thousands of people have been evacuated from their homes, and upwards of 10,000 acres of land destroyed with over 4 million burned trees. The fire has not yet been contained.
The WZO family sends its thoughts and prayers to all the citizens of Israel, and our deepest condolences to those who have lost love ones during this terrible tragedy.
The international community has mobilized to send equipment and rescue teams to help Israel fight this disaster of unprecedented proportions. Now is the time for us – lovers of Israel – to stand together as one and show our strong support to our brothers and sisters and to the land that we love so much – Eretz Yisrael.
You can act now in two ways to make a difference:
1. Visit us on Facebook and express your solidarity with the people of Israel and those impacted by the Carmel Fire. Send your personal message of support to be viewed by the people of Israel.
2. Please help by donating now. Proceeds will be disbursed to the families directly impacted by the fire.
My donation to Carmel Fire Relief: