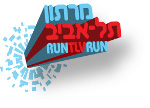 Looking for a great way to stay fit over the winter? Your friends ran the Chicago Marathon and now you want to run one too? Want to try a new marathon or half marathon and meet others interested in running?
The American Zionist Movement in Chicago and Birthright Israel NEXT Chicago are forming a team to train together in Chicago for the Tel Aviv Marathon on April 8,2011.
Join us on October 27th at 6:00 pm at Birthright Israel NEXT Office (1440 N. Dayton, #301)  for a 2-6 mile fun run and informational meeting to learn more. Click here to RSVP!

Click here to sign up for Team Run Israel!
Click here to see a more detailed proposal of Team Run Israel.
Team members will
train together twice a week for both speed training and long runs
receive coaching through the Chicago Area Runner's Association Marathon/Half Marathon Winter training program
attend running seminars to cover a broad range of topics including: good running form, marathon training, winter training, sports nutrition and hydration, etc.
raise money to help pay for a trip to Israel and make a donation to the Israel Sport Center for the Disabled
spend a week in Israel prior to the Tel Aviv Marathon on April 8
While in Israel, participants will have the opportunity to
volunteer with Chicago's sister city, Petach Tikva
tour the Wingate Institute for Physical Education and Sports
visit the Israel Sports Center for the Disabled
visit the Herzl Museum
go on group runs in Israel
and MUCH MORE!!!
Team members will be required to individually raise $3000 by the first of January towards Team Run Israel Expenses.
For more information about the Tel Aviv Marathon
For more information about the Israel Sport Center for the Disabled
For more information e-mail Alona Banai or
Call the AZM-Chicago office at 847-677-5949 or Birthright Israel NEXT at 312-380-6533