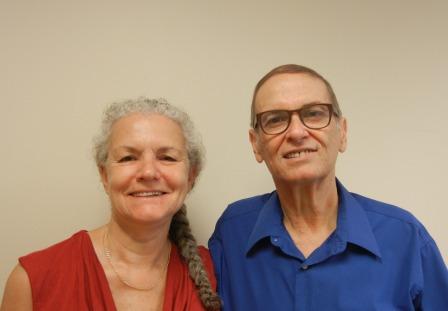 Call them a power couple. Together, Simcha Leibovich, Representative of Zionist Executive in North America, and Diti Bechor, Coordinator for Morim Shlichim (teacher shlichim) in North America, are involved in many of the World Zionist Organization's activities in North America, and they couldn't be more proud.
Simcha worked in the United States for almost 30 summers at Ramah camps, promoting Israel in myriad ways. Diti, who is not only Simcha's colleague but also his wife, was a shlicha and has been involved in Zionist work for several years. Together, they know that Zionism, and the Jewish community's advocacy on behalf of Israel and the Jewish People, has shifted over the past decade, and they are determined to revitalize its importance. In his role at WZO, Simcha manages numerous key missions that do just that: supporting teachers and shlichim, connecting Israelis living in North America with Israel, promoting the Hebrew language as a key to identity and connection, and encouraging Aliyah. Simcha also partners with the American Zionist Movement to create compelling programs about Zionism and Israel, and to promote his work among AZM's member organizations
The Morim Shlichim program recruits Israeli teachers and places them in North American schools for three years. As Coordinator of the program, Diti is delighted to work with many talented and dedicated people. "I'm so proud to go around North America and meet these teachers, who are doing an amazing job," she said. "I feel like they're mine."
Diti believes that sharing her personal point of view about Israel is vital to helping people connect to the country and to their heritage. Though not blind to Israel's faults, she contends that discussing its numerous merits helps increase interest in it and support for it.
Simcha feels similarly. He is the definition of a people person, happiest when he's meeting people. He has worked in several camps, led training seminars and managed organizations, and knows that Israel can be a contentious issue. He doesn't take support for it for granted; indeed, he is invigorated when collaborating with those who are committed to Israel.
Though WZO implements varied programs and events here in North America, Simcha believes the best way to promote Israel is to spend time there. "You know the saying 'a picture is worth a thousand words?' Well, an experience is better than a million pictures," he says.